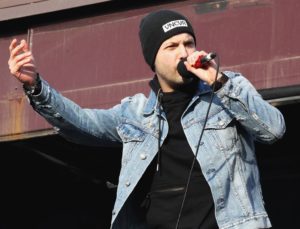 Smith, who entertained the crowd with a mix of holiday music and his own top hits, including his best selling recent single Autograph, said the trip was a great opportunity to raise money for food banks in virtually every community across the country.
"It's been amazing so far," he said. "We are hitting up small towns I would never usually get to, so visiting some fans I would never be able to get to and raising money for foodbanks is what this is all about.
Every pound and dollar raised at each stop stays with the local food bank to help feed those in need in that community. Since its launch in 1999, the program has raised more than $12 million and 3.9 million pounds of food for communities along CP's routes in Canada and the northern U.S.
To help make this year the best yet for local food banks, people who visit the the Holiday Train asks are asked to follow the train on social media, invite friends and family to do the same and to spread the message about the importance of heart-healthy donations by using the hashtag #HealthyDonations when posting to Twitter and Instagram.
Each year, fans of the Holiday Train follow its journey over social media, posting spectacular images of the trains in various cities and landscapes.
Those who capture the spirit of the train, holiday entertainment and the spirit of giving are encouraged to enter the "Capture the Spirit" photo contest for the chance to win an exclusive ride on next year's train.
This year, those that enter the contest will help track the train in a customized #CPHolidayTrain map. Visit the Holiday Train Facebook page.