DALLAS SMITH CELEBRATES #1 HIT "WASTIN' GAS" DURING CRS 2015 WITH MANY CANADIAN COUNTRY RADIO AND INDUSTRY FRIENDS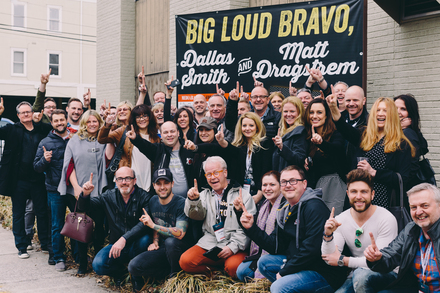 Dallas Smith (pictured in the front row second in from left) toasting with numerous Canadian Country Radio and industry friends including CCMA Awards President Don Green, CMT Canada, Republic Live/Boots & Hearts Festival executives, producer Joey Moi and his UMG Canada and Big Loud Mountain teams at a celebratory gathering held at the Big Loud Mountain offices on Music Row last Thursday (2/26)
Photo Credit: Amy Allmand Photography
NASHVILLE, TN (March 3, 2015) – Platinum-selling country singer Dallas Smith celebrated his latest single, "Wastin' Gas," holding the #1 spot on the Canadian Country Radio charts for two consecutive weeks with numerous Canadian Country Radio and industry friends along with his UMG Canada and Big Loud Mountain teams last Thursday (2/26) in Nashville, TN, during CRS week. The infectious song marks Smith's second best-selling single to date behind the PLATINUM smash "Tippin' Point." Piling on the accolades, the powerhouse vocalist was also recognized as the first Canadian male artist in the Nielsen BDS era to spend multiple weeks atop of the Country Airplay chart in Canada.
Smith sits on the verge of international success with "Wastin' Gas" premiering in the U.S. on SiriusXM's The Highway and sky-rocketing to #1 on the iTunes Canadian Country Chart. The hit single is featured on Smith's buzzed-about LIFTED EP (Big Loud Mountain) which released nationwide, reaching #5 on the iTunes U.S. Country Chart. "Wastin' Gas" follows his breakout U.S. debut "Tippin' Point" which reached No. 1 on SiriusXM's The Highway Hot 45 Countdown, set the record as the fastest Canadian country single to go PLATINUM and is the highest selling Canadian Country digital single in history.
For LIFTED, Smith teamed up again with prized producer Joey Moi (Florida Georgia Line, Jake Owen) who was also at the helm of his award-winning Canadian country debut,  JUMPED RIGHT IN. Moi captures Smith's distinct wall-of-sound approach that combines the vocals of country with the crunch of rock on the new tracks, including "Cheap Seats," "Thinkin' Bout You," and "Just Say When."
The talented showman, who fronted the wildly popular international rock band Default, recently wrapped his headlining 2015 TIPPIN' POINT TOUR across Canada. The sold-out run featured special guests Charlie Worsham and Sundy Best. Previously, Smith opened for Bob Seger and superstar duo Florida Georgia Line on a slew of dates across North America.
The British Columbia native is quickly amassing widespread appeal and racking up industry recognition with his nomination for the prestigious 2015 JUNO Award for Country Album of the Year and being named the first Canadian country artist to have nine singles reach the Top 10 at radio in Canada. Garnering critical acclaim, the Huffington Post named Smith as one of their "15 Country Artists To Watch" in 2015.
For more information on Dallas Smith and tour dates, visit DallasSmithMusic.com.
LIFTED EP is now available here.